Dr. Eva Svarch, Dr. Porfirio Hernández, Dr. José Manuel Ballester
Instituto de Hematología e Inmunología (IHI)
La Habana, Cuba
revised February 23, 2001

---
Sickle Cell Disease in Cuba
GENERAL OVERVIEW
Sickle cell disease (SCD) is a group of hemoglobin disorders in which the sickle ß globin gene is inherited. The most common type of SCD is sickle cell anemia (SCA). Other types are combinations of hemoglobin (Hb) S with Hb C or ß thalassemia (Sß thal).

The sickle ß globin gene is widely spread through Africa, the Middle East, the Mediterranean countries and India; and, due to slave trade, it has also been carried to North America, the Caribbean, Central America and a few countries of South America. In some of these regions, SCD has been recognized as a public health problem, since it is the most frequent type of hemolytic anemia.

The primary cause of SCD clinical manifestations is the intracellular polymerization of Hb S that occurs when sickle erythrocytes are partially deoxygenated under hypoxia. The intracellular polymerization of Hb S causes the red cell to lose its flexibility. Repeated cycles of oxygenation/ deoxygenation result in irreversible membrane damage and to the formation of irreversibly sickled cells. More subtle membrane damage leads to intracellular water and potassium loss, and the generation of progressively dehydrated cells in the form of dense erythrocytes. The sickle red cells are less deformable, thus resulting in microvascular occlusion and hemolytic anemia, which are typical of the disease.

Although the exact mechanism of vasoocclusion has not been fully elucidated, many factors play a role in physiopathology the sickle cell vasoocclusion process: adhesion molecules, endothelial cell abnormalities, cytokines and coagulation factors. (1)

The most common clinical manifestations in SCD are anemia, jaundice, recurrent vasoocclusive crises, and bacterial infections -mostly by S pneumoniae. The increased susceptibility to bacterial infections is primarily due to organic or functional asplenia. (2) The compromise of splenic function is confirmed by the increase of pitted red cells and by the spleen gammagraphy.

Acute chest syndrome (ACS) is one of the most frequent reasons for hospital admission in SCD. ACS is defined as a new pulmonary infiltration, and some combination of fever and chest pain with signs and symptoms of pulmonary disease, such as tachypnea, cough and dyspnea. Although there is an increasing awareness of the fact that ACS is a leading cause of death in these patients, the diagnosis is often still delayed. The optimal treatment is unknown, and the cause is usually not determined. (3) Risk factors for the development of ACS in patients with SCD are earlier ages, a lower concentration of Hb F, higher steady hemoglobin concentrations and higher steady state white blood cells counts. The possible pathogenetic mechanisms are infections, pulmonary vascular occlusion or fat embolism, infarction of the bony thorax that causes hypoventilation and atelectasia. Other factors are aggressive intravenous hydration and opioid analgesics. (4)

One of the most devastating manifestations of SCD is stroke, which is defined as an acute clinically evident neurological event. Stroke occurs at any time after the first year of life, but it is more frequent between 5-10 years. The internal carotid, middle cerebral and anterior cerebral arteries, near the circle of Willis, are the most commonly involved. Hemiparesis, monoparesis, aphasia, dysphasia and seizures are the most common presentations. Computerized tomography is helpful to rule out a hemorrhagic stroke, but it is less sensitive than magnetic resonance imaging for ischemic changes. Transcranial Doppler studies can predict the risk of this complication. Regular red cell transfusions were associated with a marked reduction in stroke. (5)


Acute splenic sequestration is an important cause of morbidity and mortality in children with SCD. This process consists of a rapid enlargement of the spleen and an acute drop of hemoglobin level by more than 2 g/dl. The classical treatment is total splenectomy (6); nevertheless this procedure often carries the risk of fulminant septicemia and death in 50% of the cases. These reasons led us to start performing partial splenectomy in 1986; so far, good results have been achieved. (7)


Other clinical manifestations of this condition are hyposthenuria, priapism, avascular necrosis, proliferative retinopathy, cholelithiasis, aplastic crises, delayed growth and sexual maturation, chronic pulmonary disease and chronic nephropathy. (2)

Although the clinical presentation is similar in all hemoglobinopathies S, patients with homozygous HbS and S-ß° thal have a more severe disease course than those with SC hemoglobinopathy and S-ß+ thal. Also, it has long been appreciated that SCA exhibits a wide variability in the clinical presentation. A simple measurable parameter to assess the clinical severity does not exist. Yet extensive evidence indicates that high levels of Hb F provide a protective effect in SCA. (8) Apparently, the DNA polymorphisms of the ßS-gene cluster modify the clinical course, especially as it involves the risk of end-stage open failure of the kidneys, lungs, and brain. The Bantu haplotype increases the risk of developing irreversible complications at an early age (9); the Senegal determines a less severe clinical presentation, and the severity is intermediate in the Benin haplotype. (10)

Further modulation of the clinical course by coinheritance of two-gene deletion a-thalassemia tends to decrease the risk of soft tissue organ failure but increases the risk of osteonecrosis. (9)

Some clinical observations have suggested that increased an Hb F concentration may have a beneficial effect in SCD.

Of all drugs that were used that were used to increase Hb F levels, hydroxyurea has proved to be the most useful. It can be easily administered and shows few side effects. A large US study on hydroxyurea in randomized adult patients with SCD was reported in 1995. (11) The trial was ended five months earlier than planned because the drug benefits had become strikingly apparent. The treatment greatly reduced ACS and the need for transfusions; it also caused a 50% decline in the frequency of painful episodes.

The efficacy of hydroxyurea was also assessed in children. (12)

Transfusion therapy is an important component of the treatment when there is an acute exacerbation of severe anemia to cause cardiovascular failure. It may be required frequently to suppress the production of Hb S to below 30%. In stroke, an exchange transfusion may be necessary to obtain Hb S below 30%. It is important to keep this percentage for at least three years. Other complications that require blood transfusions are ACS, priapism, severe infections, intractable leg ulcers, preoperative preparation for major surgery and high-risk pregnancy.

Recently there has been an increased awareness of the potential adverse effects of transfusions, since one of these conditions can occur: hyperviscosity, volume overload, AIDS, other infections such as hepatitis B and C, acute or delayed hemolytic reactions, and alloimmunizations to red cells antigens. (13)

Bone marrow transplantation has a curative potential for patients with SCD, but concerns about a suitable bone marrow donor, short and long term toxicity, and costs make it an infrequently used treatment.



Figure 1. Map of Cuba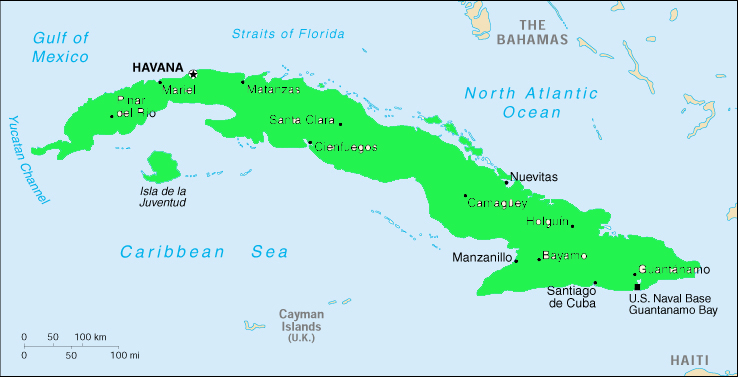 Many other approaches to therapy are being formulated. Gene therapy is the most promising and the most elusive. Life expectancy, especially in the early years of life, has improved significantly. Prenatal diagnosis or newborn screening, parent education, early institution of prophylactic penicillin, and careful medical care are essential aspects for the prevention of early mortality. Moreover, the longitudinal study, at an early age, yields relevant information about the type and severity of events encountered by infants and young children.
Life expectancy in adults has also improved. Recent data indicates that 85-90% of patients survived to beyond 20 years of age, and the median age at death has been 42 years for males and 48 for females. (14)
STUDIES PERFORMED IN CUBA
Epidemiological Studies
The African slave trade to Cuba was followed by a variable degree of genetic mixture with the Caucasian population, which explains the genetic composition of the Cuban population: Five per cent black genes in whites and 13% white genes in black subjects. Incidence of sickle cell trait in the general population was 3.08%, whereas it was 0.6% in whites and 13.2% in blacks. (15) (TABLE 1)
Table 1. Epidemiology of Sickle Cell Disease in Cuba

| | | |
| --- | --- | --- |
| Genetic Composition of the Cuban Population | | |
| White Subjects | "Black" Genes | 5% |
| Black Subjects | "White" Genes | 13% |
| Incidence of Sickle Trait | | |
| General Population | 3.08% | |
| Whites | 0.6% | |
| Mulattos | 4.1% | |
| Blacks | 13.2% | |
| Eastern Provinces | 5.59-10.6% | |
| Western Provinces | 2.12-3.04% | |
Population screening was conducted in provinces throughout Cuba (Figure 1). The data revealed a higher prevalence of Hb S mainly in the eastern part of the island as compared to the center and the western regions. The health care facilities in Santiago de Cuba manage a large number of patients with sickle cell disease.

The expected calculated number of newborns with SCD per year, according to birth rates; the prevalence of the different ethnic groups; and the number of interracial marriages should be around 150.
A national registry has been started to record more epidemiological data.
Prenatal diagnosis
The DNA technology for prenatal diagnosis (PND) was introduced in our country by the IHI, and later transferred to the National Center of Medical Genetics, which is the institution nowadays responsible for carrying out this procedure in the whole country, as stated in the SCD PND National Program. (16) (TABLE 2)

Table 2. Outcome of Sickle Cell Disease Prenatal Diagnosis (PND) Program- 1983 to 1999

| | | |
| --- | --- | --- |
| Women Screened | 2,370,196 | |
| Carriers (AS + AC) | 81,424 | 3.4% |
| Couples Studied | 61,736 | 76% |
| Couples at Risk | 4,045 | 6.6% |
| PND Requested | 2,505 | 62% |
| PND Done | 2,221 | 88.7% |
| Positive SS or SC | 501 | 22.6% |
| Interruptions | 349 | 69.7% |
Clinical and Hematological Studies in Children with SCD
At the IHI, there is a specialized clinic to deliver comprehensive medical care to patients even from very early ages.

Table 3 shows the care plan in correspondence with the patient's age. In each visit we find out about school performance. We also teach the child's mother about spleen palpation, and explain to both mother and child the features of the disease. The clinical and hematological data from 246 children are similar to the data described in other reports. Some of these aspects have already been published. (2,17,18)

Growth and development delay in children with SCD has been well documented. The poor growth can be attributed to many factors; but the nutritional status, the number of infections and other complications play an important role.

Height, weight and body mass index were measured in 95 SCD prepuberal children, 62 SCA, and 33 SC hemoglobinopathy; 52 males and 43 females. Height measurements showed that children with SC hemoglobinopathy were taller than those with SCA. Eighty six per cent of the patients were above the 10th percentile. There was no difference from Cuban standards. These results could be due to the good socio-economic conditions and to the comprehensive medical care.

Table 3. Sickle Cell Disease Care Plan at the Pediatric Clinic of the IHI
Hb electrophoresis, G6PD, a globin genes, haplotypes
Confirm prenatal diagnosis; once after one year of age
Clinic visits
´ Monthly for children < 1 year
´ Every 3 months for 1-18 years
HbF
Yearly, starting 1 year of age
Review of pain episodes, ACS, ASS, Stroke and others
Every visit
Transfusions (if necessary)
Every visit
Penicillin
Starting at 3 months; 125 mg bid until age 3 years; 250 mg bid until age 5 years
Folic acid
Starting at 3 months; 1 mg daily
Bilirubin, ALT, Creatinine
Yearly
HCV, HBV, HIV
Yearly, if on transfusions
Nervous system
A neurological study is being conducted in children with and without previous stroke. We are exhaustively examining patients physically, running IQ tests, and transcranial Doppler ultrasonography. We have studied 65 children with SCA and S ß+ thal, 3-18 years of age. Nine had suffered a stroke and 56 had not. The speed of the blood flow in the middle cerebral artery was not higher than 120 cm/sec. This study is still in progress to find out the correlation between stroke and the increase of the blood flow speed.

Spleen function
We studied the splenic function in splenectomized and non-splenectomized patients, with splenic gammagraphy. We used 99 Tc sulfur colloid that is taken up by the reticuloendothelial system and 99 Tc MDP that measures recent areas of infarction areas and the degree of vascular impairment. We have studied 30 children in different age groups: ten were 0-5 years old, ten were 6-10 and ten 11-15. The abnormal results were more frequently found in the last group, in which seven had functional asplenia, and all of them suffered from organic asplenia. The annual mean of infections was 0.28 in the first age group, 0.32 in the second and 0.59 in the third (p < 0.05). There was a direct correlation between the number of infectious episodes and the results of the gammagraphy.

Although it is not a practical approach to perform this test on all patients, it could be useful for those who have frequent and severe infections.

Partial splenectomy
Partial splenectomy was performed on 49 patients at the IHI from 1986 to 1999. All patients had experienced more than one episode of ASS. So far, we have not observed any episode of ASS after surgery. The need of hospitalization and transfusions has been greatly reduced. Our preliminary results in 25 children were promising. (7) Only one child had a severe episode of septicemia after the operation, but fully recovered. (19)

Clinical and Hematological Studies in Adults with SCA
Liver Complications
Episodes of hepatic sequestration were reported in adult patients in Cuba at a moment when the sequestration phenomenon in the liver was beginning to be emphasized. One case presented a severe and fatal sequestration crisis while others showed mild episodes. The clinical presentation was similar to that seen in the ASS crises in children. (20) Gallstones occurred in 28% of SCA patients. This percentage is lower than is observed in other countries.

Serum amylase was increased before and after pancreatic stimulation, mainly in cases with gallstones. Abdominal ultrasound and computerized tomography revealed a pancreatic enlargement in 69% of these cases, suggesting chronic pancreatitis. An association between gallstones and chronic gastritis in adult patients with SCA was also seen. (21)

Malabsorption
Evidence of chronic intestinal malabsorption disorder was investigated in 31 SCA patients. Lactose absorption tests showed a flat absorption curve in all the patients in relation to the control group: 20% showed a positive Sudan test in stools, 39% had abnormal results in the lipiodol test, and 36% abnormal D-xylose test.

Jejunal biopsy showed a significant decrease in villous height compared to the control group.

Lymphoplasmocytic infiltration in the lamina propia suggested a subclinical intestinal malabsorption disorder.

Nervous system
The regional cerebral blood flow was studied in 35 patients with SCA by a simple photon emission computerized tomography imaging with the 99m TC labelled tracer Ceretec (99mTc-HMPAD). Two groups were studied: a) with previous cerebrovascular disease (clinical stroke) and b) without previous cerebrovascular disease. The results revealed alterations in the brain flow of all cases with previous stroke, and a significant number of affected regions in 50% of the cases in the group without a history of stroke. These findings indicated a high number of subclinical brain events in patients with SCA.

Transcranial Doppler ultrasonography was used as a screening examination for cerebrovascular disease in adult patients with SCA. Two groups were studied: one with stroke preceding the ultrasound screening, and another without previous history of any type of cerebrovascular disease. Velocities up to 150 cm/sec have been described in patients with SCA secondary to anemia without evidence of stroke. No patients in group 1 showed values higher than 120 cm/sec, although mean values were significantly higher than in the control group (20 normal subjects). The middle cerebral artery (MCA), the anterior cerebral artery (ACA) and the posterior cerebral artery (PCA) were evaluated. All cases in group 2 showed values higher than 150 cm/sec in the MCA, with a mean value of 172 cm/sec ±17 cm/sec. Correlation with SPECT results was excellent; all cases showed positive results. Nevertheless, the computerized tomography results were positive in only 38% of the evaluated cases.

Peripheral nervous system
Besides CNS involvement, other neurological defects have been described in SCA patients. Peripheral neuropathy has not been commonly reported. However, studies performed in Cuba, both in adults and children, have revealed the existence of a subclinical sensorimotor distal polyneuropathy.

Electromyography and nerve conduction velocity tests supported this diagnosis. Nerve conduction velocity was significantly slowed down with increased latency period. These alterations were seen in 55 adults and in 60% of 20 children with SCA in a steady state.

Mental nerve peripheral neuropathy, first described by Konotey-Ahulu in Ghana, was later recognized elsewhere, but its real incidence is not well known yet. Over 100 SCA patients were investigated in Cuba. Nineteen per cent complained of symptoms related to this type of neuropathy. Most of them have had only transient symptoms, but some have had persistent symptoms. This syndrome was observed in some cases after bone pain crises involving the mandible; yet in other cases, a painful mandibular crisis was not detected. Most patients complained of a burning sensation over the chin, spreading to the lower lip on one side. Afterwards the area of paresthesia became an area of numbness. (22)

Cardiovascular autonomic dysfunction
Cardiovascular autonomic function tests were performed in 24 patients with SCA. Measurements based in heart rate variability (HRV) included the coefficient of variation (CV) and spectral analysis (low frequency and high frequency bands) at rest, HRV during deep breathing, Valsalva maneuver and lying-to-stand test. Fourteen patients (58.3%) were found to suffer from cardiovascular autonomic dysfunction (CAD), based on abnormal values of at least two cardiovascular autonomic function tests. Involvement of autonomic nervous dysfunction in cases of sudden death has been reported in various diseases. Could CAD be a possible risk factor for sudden death in SCA? (23)

Acute phase reactants
Metabolic and serum changes during steady state SCA are consistent with an acute phase response and increases the possibility for inflammation to occur in SCA, even during the steady state.

We studied 83 patients with SCA, and we found increased C-reactive protein in 55% of them during the steady state, whereas this reactant was increased in 8/8 patients with vasoocclusive crises.

Tissue amyloid deposition was studied in 43 SCD patients (38 with SCA, 3 SC hemoglobinopathy and 3 S-ß thal) in steady state. Thin needle aspiration biopsy of periumbilical fat was performed. Amyloid deposition was found in 33% (14 out of 33) subjects with SCD. No differences were found when positive and negative patients were compared, taking into consideration the number of hospital admissions, painful crises, hepatic crises, upper respiratory tract infections and the existence of leg ulceration in a period of 5 years. This finding deserves further studies, but it could be explained by the occurrence of subclinical vasoocclusion that might generate an inflammatory response. Secondary amyloid protein appears to be derived by proteolysis from the precursor known as serum amyloid A. Since not every patient who produces excessive amounts of these proteins develops the disease, it seems likely that additional factors play a role in giving some individuals a more "amyloidogenic" condition.

Anti-neutrophil cytoplasmic antibodies (ANCA), incluidng cytoplasmic neutrophil staining (cANCA) and perinuclear staining (pANCA) were determined in 55 patients with SCA; 35 with painful crises and 20 during steady state. A significant increase of pANCA in the patients with a painful crisis was observed as compared to steady state and normal controls. This increase might have pathogenic implications. Our results suggest the possibility that p ANCA interacting with neutrophils may lead to neutrophil activation, enhancing neutrophil adhesion and inducing amplification of endothelial cell damage in SCA.

The adhesion molecules in 27 patients with SCA in steady state were studied. The expression of leukocyte adhesion, LFA-1, VLA-4, ICAM-1, and L-selectin were studied in neutrophils and lymphocytes; while the expression of VLA-4 molecule was studied on red blood cells. CD 34 molecule was evaluated in peripheral blood as a marker of endothelial cells. All the studies were performed using specific monoclonal antibodies by the flow cytometric analysis. Two receptors, a4ß1 and CD 36, have been identified on sickle cells. The former has been shown to play a role in the adherence of sickle cells to endothelial cells via VCAM-1. The number of activated circulating endothelial cells in SCA patients in steady state found in this study is similar to that previously reported (13.84 ± 14.73 ml versus 13.2± 11.8/ml of total blood).
Alpha Thalassemia and ß-globin gene haplotypes
SCA patients exhibited a frequency of two-gene alpha thalassemia of 0.1880, whereas in normal non-whites it was 0.1170. There was age dependence in this sample of SCA patients with a higher frequency in those over 50 years old. This strongly suggests that the two-gene alpha thalassemia haplotype protects individuals with this disease from death. (24)

Recent studies on the potential effects of changing the levels of medical care, concerning the age dependence on the frequency of two-gene deletion a-thalassemia in SCA, suggested that an enhanced level of medical care in SCA might obscure the survival beneficial effects of a-thalassemia. This would improve the survival of patients who do not express this epistatic factor. These results also suggest that future studies on epistasis in SCA should compare patients receiving similar medical care, since disparate health support might make some of the modifier genes undetectable. The epistasis in SCA is the effect of linked or unlinked genes other than ß S gene on the phenotype of SCA, and it is a major determinant of the variability in the clinical expression of SCA. The epistatic effects already established include a-thalassemia and ß-gene-cluster haplotypes. These haplotypes were studied, and the following frequencies were observed: Benin 51%, Bantu 41% and Senegal 8%. There was also age dependence in this sample of SCA, as the Bantu haplotype increased compared to the frequency observed in children. These results suggest that the Senegal haplotype protects individuals with SCA, whereas the Bantu haplotype represents a factor of bad prognosis, (25)

FINAL REMARKS
SCD has been extensively studied in Cuba. It is worth pointing out that our research has contributed to a better understanding and a wider knowledge of the clinical and hematological manifestations, particularly on those aspects which had not been deeply investigated before.

Our immediate future plans comprise the following actions:
Involvement of primary care doctors in the follow-up of SCA patients who do not require hospitalization, paying particular attention to children's growth and development, leg ulcers, pregnancy, prophylactic penicillin and folic acid.
Improvement of the multi-professional working team's performance (hematologists, neurologists, obstetricians, ophthalmologists, orthopedists, psychologists, nurses and social workers).
Intensification the health education campaign on SCD, which will benefit not only the patients but also the whole community.
---
BIBLIOGRAPHIC REFERENCES
Bunn H.F. Pathogenesis and treatment of sickle cell disease. N. Eng. J. Med., 1997; 337: 762-769
Colombo B.,Svarch E., Martínez G Genética y clínica de las hemoglobinas humanas. La Habana. Ed Pueblo y Educación, 1994
Vichinsky E.P., Neumayr L.D., Earles A.N. et al Causes and outcome of acute chest syndrome in sickle cell disease. N.Eng. J. Med. 2000; 342: 1855-1865
Quinn C.T, Buchanan G.R. The acute chest syndrome of sickle cell disease. J. Pediatr. 1999; 135: 416-422
Adams R. J. Lessons from the Stroke. Prevention trial in sickle cell anemia (STOP) study. J. Child Neurol, 2000; 342: 1855-1865
Emond A.N., Collis R., Darvill R et al Acute splenic sequestration in homozygous sickle cell disease: natural history and management J. Pediatr, 1985; 107: 201-206
Svarch E., Vilorio P., Nordet I et al Partial splenectomy in children with sickle cell disease and repeated episodes of splenic sequestration. Hemoglobin, 1996; 20:393-400
Bailey K., Morris J.S., Thomas P et al Fetal haemoglobin and early manifestations of homozygous sickle cell disease. Arch. Dis. Child, 1992; 67:517-520
Nagel R., Fabry M., Pagnier J. Hematological and genetic markers in sickle cell disease. Sem. Hematol. 1991; 28: 180-201
Powars D.R. Sickle cell anemia: ß S-gene-cluster haplotypes as prognostic indicators of vital organ failure, Sem. Hematol. 1991; 28: 202-208
Charache S., Terrin M.I., Moore R.D. et al Effect of hydroxyurea on the frequency of painful crisis in sickle cell anemia, N. Eng. J. Med. 1995; 332: 1550-1554
Kinney T.R., Helms R.W., O'Branski E.E. Safety of hydroxyurea in children with sickle cell anemia: Results of the HUG-KIDS study, a phase I/II trial. Blood, 1999; 94: 1550-1554
King K.E., Ness P.M. Treating anemia. Hematol./Oncol. Clin North Amer. 1996; 10: 1305-1320
Platt O.S., Brambilla D.J., Rosse W.F et al Mortality in sickle cell disease. Life expectancy and risk factors for early death. N.Eng. J. Med. 1994; 330:1639-1644
Colombo B., Martínez G. Hemoglobin variants in Cuba Hemoglobin, 1985; 9:415-422
Granda H., Gispert S., Dorticos A et al Cuban programme for prevention of sickle cell disease Lancet, 1991; 337: 152-153
Svarch E., Nordet I., Machín S et al La drepanocitosis en los 5 primeros años de la vida. Sangre, 1996; 41:43-46
García T., Nordet I., Machín S et al Aportes al estudio de la drepanocitosis. Análisis clínico y hematolˇgico en los primeros 5 años de la vida,. Rev. Cubana Hematol. Inmunol. Hemot, 1999; 15: 96-103
Svarch E, Nordet I, González A. Overwhelming septicaemia in a patient with sickle cell/ ß+ thalassaemia. Brit. J. Haematol., 1999; 104: 928-929
Hernández P., Dorticos E., Espinosa E et al Clinical features of hepatic sequestration in sickle cell anaemia. Haematologia, 1989; 22: 169-174
Espinosa E., Svarch E., Martínez G et al La anemia drepanocítica en Cuba. Experiencia de 30 años. Rev. Cubana Hematol. Inmunol. Hemot, 1996; 12: 97-105
Hernández P. Mental nerve syndrome in sickle cell anemia. Milán XXII Congress Internal. Soc. Hematol. 1988 (Abstract 490)
Romero J.C., Hernández A., Agramonte O et al Cardiovascular autonomic dysfunction in sickle cell anemia: A possible risk factor for sudden death? Clin. Auton. Res., 1997; 7: 1-5
Martínez G., Muñiz A., Svarch E et al Age dependence of the gene frequency of a-thalassemia in sickle cell anemia in Cuba. Blood, 1996; 88: 1898-1899
Muñiz A., Corral L., Alaez C et al Sickle cell anemia and ß-gene-cluster haplotypes in Cuba. Am. J. Hematol., 1995; 49: 163-164.